FLIR ONE: add thermal imaging to your smartphone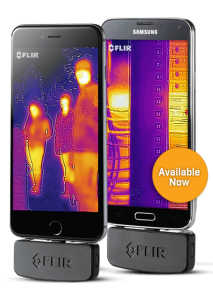 New to the Kellihers range, the next generation FLIR ONE thermal imaging camera attachment for iOS and Android puts the power of thermal imaging in your pocket.
Simply plug the FLIR ONE into your smartphone or tablet and you're all set, with a fully functional thermal imaging device. FLIR ONE offers non-contact spot temperature measurement, automatic shuttering and patented MSX Technology that uses dual cameras to deliver a more detailed image. With the exclusive FLIR ONE App you even get thermal panoramas and timelapse features.
Thermal imaging is a great addition to the electrical contractor's diagnostic arsenal. Electrical equipment tends to heat up before it fails. The FLIR ONE makes these hot spots clearly visible, allowing you to pinpoint and resolve potential issues before they become a problem. Scanning electrical cabinets, breaker panels, fuses, bolted connections, and switchgear with a thermal imager gives you an instant snapshot of possible trouble you would otherwise miss.
To find out more visit the FLIR ONE section on the FLIR website and check out the FLIR ONE at your local Kellihers or CT Branch.