Case Study: Highfield House, student accommodation
LIGHTING UP STUDENT ACCOMMODATION
BESPOKE LIGHTING SOLUTIONS FOR STUDENT LEARNING
Client: Mezzino
Location: Highfield House, Marne Villas, Dublin
Objective: To supply contemporary lighting solutions for a new way of student living
Installer: O'Neill Mechanical & Electrical Services – https://www.oneillmes.com
Student accommodation has changed dramatically over the years and this is another example of how the modern students lives. It is packed with modern en-suite bedrooms, conducive to study plus an on-site gym, cinema room, gaming lounges and a perfect central location near transport links.
The Client
Mezzino is based across 10 major cities across the UK & Ireland. Mezzino provide luxury and budget student homes to suit all tastes. Their buildings are centrally located, close to major University campuses and vital transport links.
Mezzino offer a wide range of cluster flats, some en-suite, some with shared bathroom and if sharing is not your thing, they also offer individual studios. All properties come furnished with kitchen area, study space and bathroom facilities.
Mezzino try to reflect modern student needs and provide excellent communal facilities in their buildings with onsite gyms, cinema rooms, communal areas and study areas.
At the Mezzino Dublin location, you are surrounded by the buzz of what the city has to offer for students, with vibrant local cafes and places to eat, the city centre and of course universities including Grangegorman TU Dublin, BIMM, National College of Art & Design, Royal College Of Surgeons and Trinity College.
The Project
This project consisted of a 289 bed student accommodation scheme in Grangegorman with the electrical and mechanical expertly installed by O'Neills Mechanical & Electrical. Our CT Electric Sligo branch worked closely with O'Neills to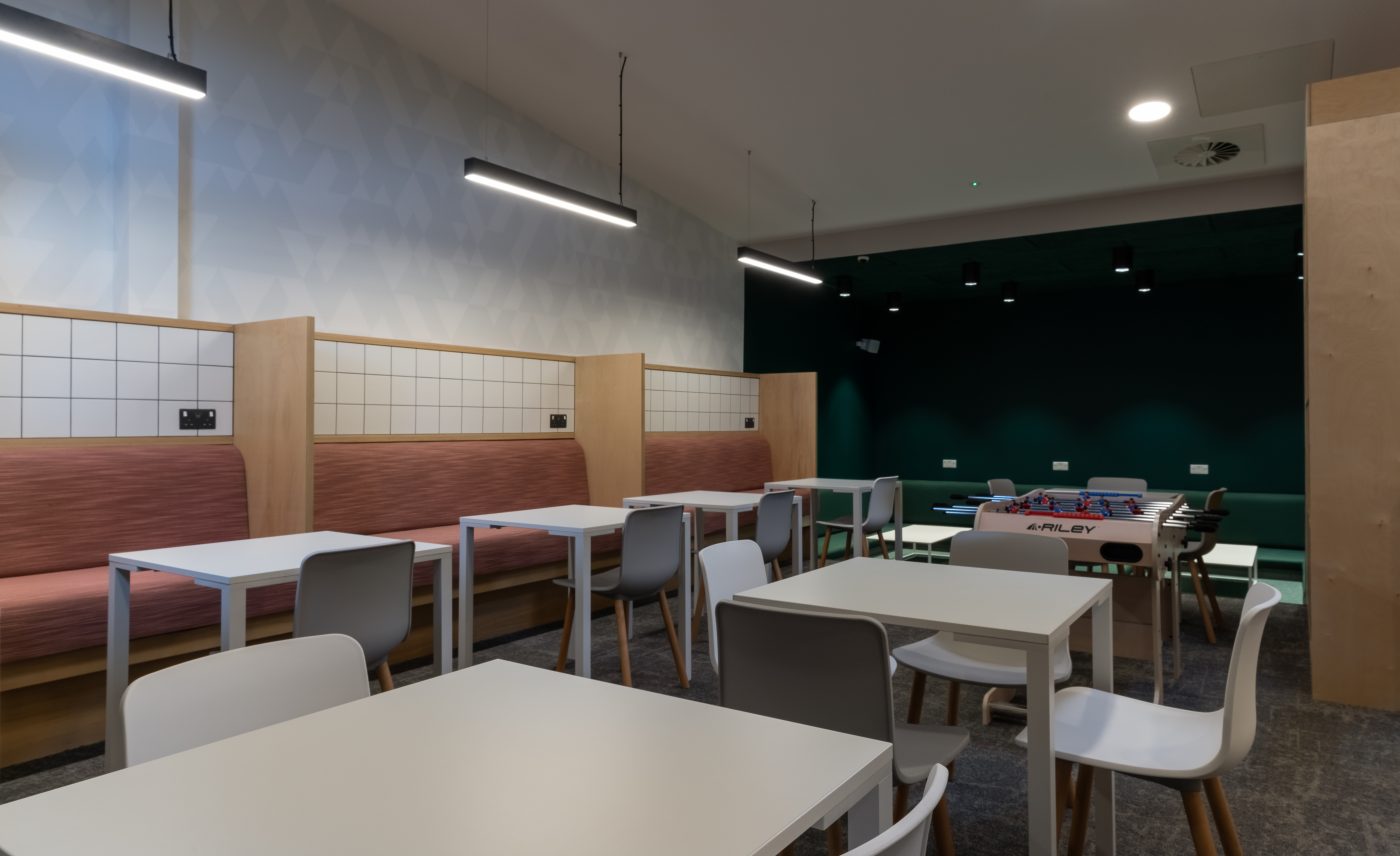 deliver and supply high end quality & innovative lighting solutions throughout this Mezzino accommodation.
On the back of this, leading edge suppliers LIRALIGHTING, Searchlight and Southgate lighting were engaged to provide a bespoke solution that accompanies the high level of student facilities dotted across this ultra-modern accommodation.
Southgate lighting products came pre-wired using the besa box system. All fittings were pre-tested in Southgate's factory meaning a quicker install for electricians on site. This service coupled with Southgate's on-site warranty gives the end contractor peace of mind should anything arise.
Additionally, Liralighting street lights had integrated emergency ensuring the correct Lux levels in different areas such as access ramps and emergency routes.
A complete lighting solution was supplied by CT Electric Sligo and expertly installed by O'Neill Mechanical & Electrical. This dedicated relationship with our customers helps deliver these fantastic projects in a professional manner resulting in the end customer benefiting from a skilled electrical installation.
CT Electric / Kellihers Electrical supplied the following:
IMAGE GALLERY
Leading edge & Innovative Suppliers
Kellihers Electrical and CT Electric only work with top quality lighting manufacturers and this can clearly be seen throughout this project.
If you want to see what can be achieved for your next commercial or residential project, then talk to us. We have an expert lighting design team who are on hand to offer high value engineering solutions, delivered on time, within budget and to your satisfaction. They are backed up by lighting specialists.
GET IN TOUCH TODAY
23 Branches Nationwide: https://kellihers.com/branchlocator/
Email: web@rexel.ie OR lighting.design@rexel.ie