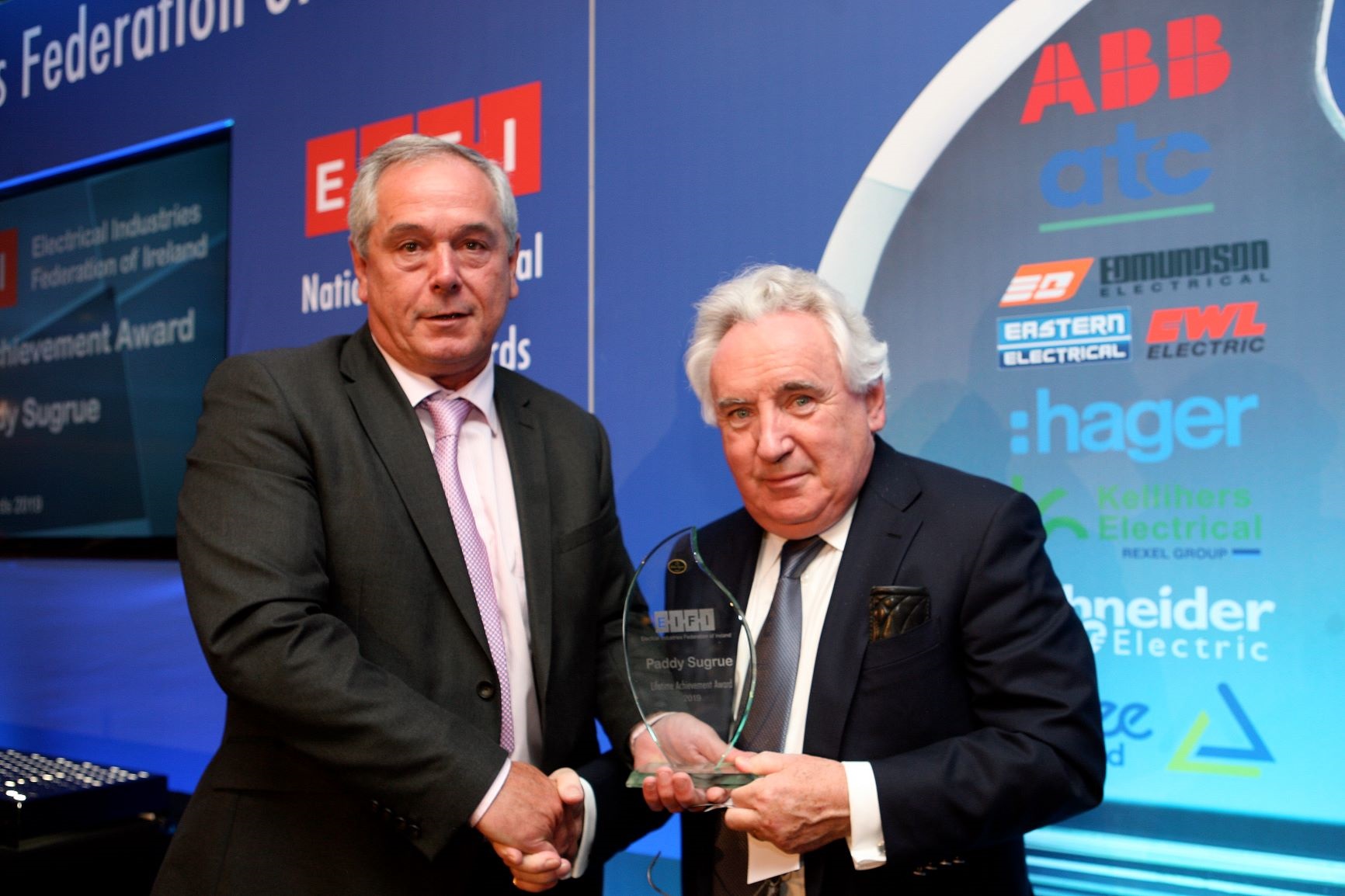 EIFI Lifetime Achievement Award for Kellihers MD, Paddy Sugrue
Kellihers Managing Director, Paddy Sugrue, has been awarded the prestigious Electrical Industries Federation of Ireland (EIFI) Lifetime Achievement Award in recognition of his outstanding contribution to the electrical industry in Ireland over the last 40 years.
Paddy assumed the mantle of MD of Kellihers in 1979. Kellihers was originally an agribusiness with a small electrical component, but Paddy identified an opportunity and switched the business's focus to the electrical sector, expanding from their Tralee, Co. Kerry base to open branches in Cork, Limerick and Waterford. Expansion to the east coast and the acquisition of Fitzpatrick Electrical in the north east and CT Electric in the west during the 1990s helped Kellihers become one of the country's leading electrical wholesalers. The rapidly growing business attracted international attention and became part of the General Electric (GE) global conglomerate in 1998. During the boom years of the late nineties Kellihers peaked almost 30 branches across the country, cementing its position as a leader in the Irish Electrical Sector.
Booms are often followed by more challenging times, and the electrical wholesale industry was hit hard. Paddy and his management team negotiated the stormy waters of recession, and while some branch closures were inevitable during the downturn, the company is on an upward trajectory again, opening new branches and refurbishing existing ones. The driving force behind Kellihers success is the mantra passed to Paddy by Magdelen Kelliher all those decades ago: "You must remember that the single most important emphasis at Kellihers is servicing the customer requirements".
Putting customers first has always been Paddy's and Kellihers priority — and it's an imperative that endures to this day.
You'll find an award announcement and a profile of Paddy Sugrue in the Industry News section of the November/December edition of Electric.ie Magazine (read a PDF of the article here).