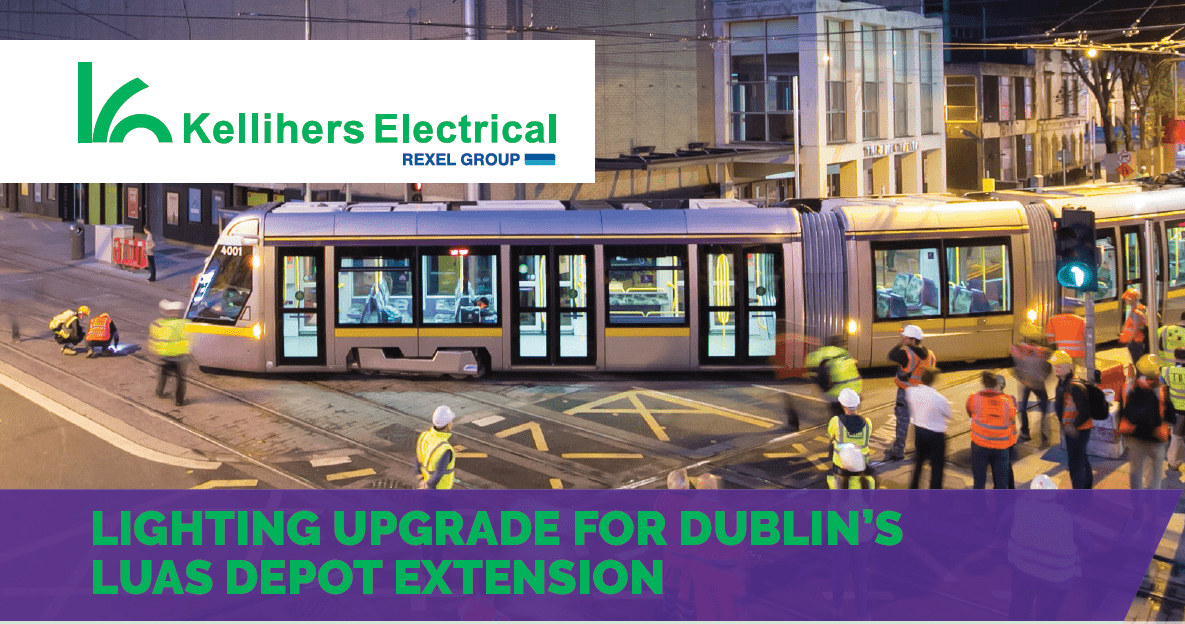 Case Study: Lighting Upgrade for Sandyford LUAS Depot Extension
Client: Sandyford Luas Depot
Location: Sandyford, Dublin
Objective: To provide energy-efficient lighting for a new extension & upgrade their current dated lighting
Installer: O'Neill Mechanical & Electrical Services
As a result of the green & red Luas lines becoming connected, a longer fleet of trams was required to accommodate the increased passenger numbers. The Sandyford depot
needed to be extended to accommodate this.
The Client
Around the world, light rail transit (LRT) has become the symbol of a revival in public transportation. With around 400 systems already running in 50 countries and another 260 being built or on the drawing board, light rail is enjoying a new golden age in cities eager to promote more sustainable travel solutions. Passengers overwhelmingly support a major shift back to a transit system transformed by high-end design and the highest standards of service. Yet LRT does more than just modernise mobility: it also breathes new life into the urban environment.
Luas is a classic example of this. Luas has breathed new life into Dublin City and is loved by all her citizens. An alternative to cars in cities, light rail provides speed, frequency, on-time performance, and accessibility. The name Luas is the Irish word for speed. This tram system connects suburban parts of Dublin on two tramlines, which run through the city centre.
These tramlines are:
The Green Line: connecting Bride's Glen (on the south side of the city) to Broombridge (on the north side)
The Red Line: connecting Saggart and Tallaght (on the southwestern side of Dublin) to The Point in Dublin
Docklands
The Project
In conjunction with Transdev (who operate Luas on behalf of the Transport Infrastructure Ireland (TII)), O'Neill Mechanical & Electrical Services & CT Electric Sligo, Southgate Lighting were chosen to help provide a leading-edge lighting solution for the Sandyford Depot, upgrade & extension. Through the relationship that our CT Electric branch in Sligo has built with O'Neill Mechanical and Electrical, the project was delivered with the utmost professionalism and everything was completed to make sure a quality product and service was delivered to site. Southgate Lighting provided excellent products and service that ensured the seamless installation of their energy-efficient lighting systems.
Southgate Lighting Products Used
The whole site featured high-quality Southgate Lighting fittings as follows:
Alpha LED Emergency Luminaire
Capella LED Exit sign
Twin Flood Emergency Luminaire
Cornice Anti-Ligature Luminaire IK14
Guard Anti-Ligature Luminaire IK14
Hayley IP65 Downlight
New-Age Recessed Luminaire
Pisces Recessed Luminaire
Hybatt High Output Luminaire
South-Line LED Surface Luminaire
Titan LED Surface Luminaire
Energy-effi cient distribution of the available power
Who is Southgate Lighting?
Southgate Lighting was originally established in 1965 as a Metal Fabrication company. It soon became a well-known and recognised manufacturer producing high quality, high volume UK manufactured components. In 1990 the company specialised in producing lighting and hence Southgate Lighting was formed.
Specialising in the manufacture of a comprehensive range of Industrial and Commercial products enhanced with professional lighting control systems.
Southgate only use Tridonic and Osram gear, which puts them in a position to offer a 5-year on-site warranty on projects; taking the responsibility away from the contractor for maintenance work!
In the unlikely event that a luminaire fails within the first 7 years Southgates' own Ex-Or & Tridonic Trained Engineers will attend site and replace the faulty component free of charge.