Soundstore Midleton, Cork
A commercial lighting plan that combines modern design with functionality and excellent lighting performance
Client: Soundstore, Midleton, Cork
Electrical Installers: DTM Electrical Contractors
Location: Market Green, Midleton, Cork
Soundstore Retail Shop, Midleton Cork
Soundstore is a 100% Irish owned electrical retailer that specialise in TV, Audio, Computers and Kitchen Appliances. The brand new Midleton store was its 6th store in the Munster region with two Stores in Cork and one store each in Limerick City, Waterford City and Tralee, Co. Kerry and the main Distribution Centre located in Cork too.
Soundstore pride themselves in having the ability to understand the customer's individual requirements which enables them to provide excellent assistance to the customer in making the right purchase.
With our continued focus on customer service, Kellihers Electrical were the perfect fit to supply the commercial lighting for this new store and all their other stores across the Munster region.
To compliment this modern retail store, an innovative and expertly designed commercial lighting plan was developed by our Kellihers Cork branch working closely with their electrical contractor, DTM.
The Lighting Project
Kellihers were tasked with providing a lighting design that highlighted and complemented the various different product ranges on display throughout the store in Midleton.  With a strong focus on quality, the electrical installation was completed by DTM Electrical Contractors who worked with Karol Drapala our in-house lighting designer, in our Kellihers Cork branch. Together with the end customer, as much detail as possible was finalised prior to any product being delivered to site to ensure a smooth delivery and contemporary lighting system installed in this local electrical retail store. As a result a complete lighting design was developed to ensure the right amount of light fittings were placed in the correct locations around the retail shop in order to illuminate the quality electrical products on display.
The Kellihers lighting specialist team in Cork worked closely with DTM Electrical Contractors to supply and deliver the quality light fittings seen throughout the Soundstore shop in Midleton. We believe the quality commercial lighting solutions supplied and installed fully complement the high end products on display across the store.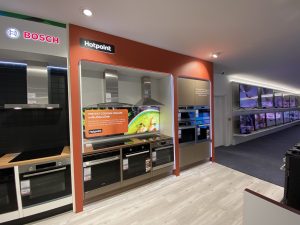 Expert lighting suppliers LUG Lighting, Disano & NVC worked closely with Karol and the Kellihers Cork team to provide their range of quality LED commercial light fittings that help complement the retail feel of this electrical shop.  The Disano Luthor LED adjustable recessed spotlights offer technologically advanced light. Thanks to their great sturdiness, excellent quality and high performance, the Luthor LED spotlights are an ideal product for the Soundstore retail environment. With the LUG Lugstar 2.0, you are getting an aesthetically pleasing light fitting that fits seamlessly into this electrical retail setting. It is a decorative downlight luminaire with IP44 protection level for LED light sources. LUG will also be releasing a 3rd Generation LUGSTAR with additional features and benefits. Click here to find out more
The NVC Emergency Seneca product was also supplied to this project as part of the Emergency Lighting package. The Seneca is a dedicated non-maintained emergency downlight with lithium batteries. SENECA is supplied with 2 lenses so it can be installed with either a circular (wide area) light distribution or an oval (corridor) light distribution. This, combined with its high output (213 lumens) made it suitable for this interior application.
Kellihers Electrical Cork supplied the following bespoke lighting products:
IMAGE GALLERY
Leading edge & Innovative Suppliers
Kellihers Electrical and CT Electric work with quality lighting manufacturers and this can clearly be seen throughout this project.
If you want to see what can be achieved for your next commercial or residential project, then talk to us. We have an expert lighting design team who can offer high value engineering solutions, delivered on time, within budget and to your satisfaction. They are backed up by expert lighting specialists with decades of experience.
GET IN TOUCH TODAY
23 Branches Nationwide: https://kellihers.com/branchlocator/
Email: web@rexel.ie OR lighting.design@rexel.ie