Woodward Square
A Residential lighting project to complement the mature surroundings of this natural urban living development
Client: Park Developments
Architects: O'Mahony Pike Architects
Installers: O'Neill Mechanical & Electrical
This wonderfully finished development consisting of 160 apartments is set in the leafy surrounds of South Dublin and satisfies the ongoing need for build to rent accommodation.
Woodward Square, Sandyford
This aesthetically pleasing development is set in the mature surrounds of the historic and iconic location of Glencairn Gate, Sandyford and with its contemporary design, natural large outdoor space, it has everything that a
modern renter could ask for.
Woodward square has been developed to cater for the needs of the modern busy professional. These spacious 1, 2 and 3 bedroom apartments offer an ideal work life balance within easy access to Dublin city centre. With the Luas, the M50, bus and rail options close by, and cycle lanes conveniently placed just outside your door, getting to and from this sought-after location is easy.
This development also allows for sustainable living with A-rated energy design throughout the living environment. It has a building rating of A2/A3 and is also rated 'Nearly zero Energy Building' compliant apartments.
To compliment this residential development, an innovative and expertly designed lighting plan was developed by our Sligo CT Electric branch working closely with their electrical contractor.
The Lighting Project
With a strong focus on quality, the electrical installation was completed by O'Neill Mechanical & Electrical who worked with the CT Electric Sligo staff, to deliver this modern residential project. With 160 apartments and over 5,000 sqft of amenity space, a complete lighting design needed to be developed to ensure the right amount of light fittings were placed in the correct locations around the site in order to fulfil the potential of this stunning area.
The Kellihers lighting specialist team worked closely with O'Neills to supply and deliver the quality light fittings seen throughout the Woodward Square sleek development.
Lighting suppliers LUG Lighting, HESS Lighting, Robus LED Group and Ansell worked closely with the Sligo team to provide their trademark quality light fittings that help complement the outdoor and indoor areas of this modern new residential development. Working in partnership with skilled electrical installers like O'Neills along with suppliers like LUG, Hess, Robus and Ansell, showcases how Kellihers/CT Electric can supply complete lighting solutions whatever the project.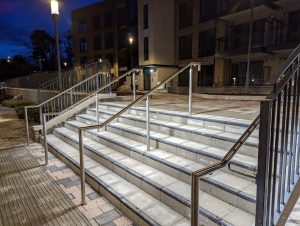 CT Electric Sligo supplied the following residential lighting products:
IMAGE GALLERY
Leading edge & Innovative Suppliers
Kellihers Electrical and CT Electric work with quality lighting manufacturers and this can clearly be seen throughout this project.
If you want to see what can be achieved for your next commercial or residential project, then talk to us. We have an expert lighting design team who can offer high value engineering solutions, delivered on time, within budget and to your satisfaction. They are backed up by expert lighting specialists with decades of experience.
GET IN TOUCH TODAY
23 Branches Nationwide: https://kellihers.com/branchlocator/
Email: web@rexel.ie OR lighting.design@rexel.ie